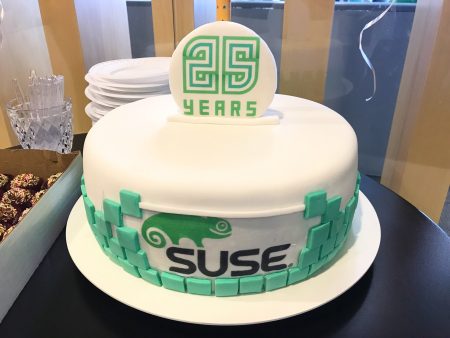 Back in 1992, the idea you could make a business from Linux seemed little more than a pipedream. Three German students, Hubert Mantel, Roland Dyroff, and Burchard Steinbild, and software engineer Thomas Fehr, thought they could make a go of it, and formed S.u.S.E, "Software und System-Entwicklung" — in English, "Software and systems development."
Today, under the name SUSE, it's one of the three most successful business Linux distributions in the world.
Today, SUSE, the oldest Linux business still running, is a long, long way from its humble beginnings. Then, the first SUSE Linux was a German port of Patrick Volkerding's Slackware, the world's longest surviving Linux distribution.
Like Red Hat, which would follow SUSE into business in 1994, these early distributions relied on both support contracts and boxed software for their income. As time went on, the days of individually packaged operating systems were drawing to a close. So, SUSE shifted over to enterprise Linux distributions and support contracts.
This move, thanks largely to IBM committing to SUSE and three other Linux distributors in 1999, would set the company's direction firmly to enterprise Linux. Today, as SUSE CEO Nils Brauckmann told me in an interview at SUSECon in Prague, "IBM's mainframes are still a big part of SUSE's business. SUSE has also seen good progress on IBM POWER servers, works well with SAP on POWER, and is making further moves into IBM's Bluemix cloud."
It wasn't always an easy path to its most successful fiscal year to date, 2017, with its $400-million in revenue. In 2003, Novell bought SUSE. This move would end up causing both a major victory for Linux and a major controversy, which would pre-shadow Microsoft's embrace of Linux.