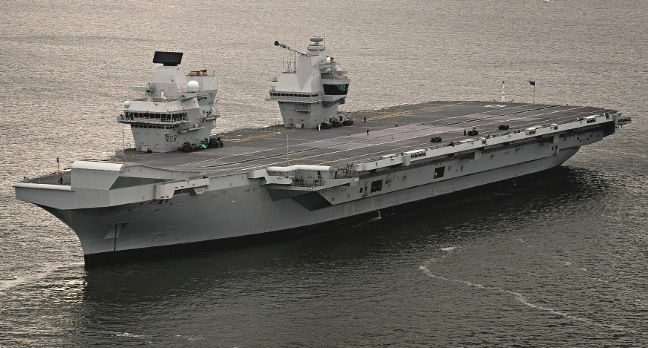 Updated The Royal Navy's brand new £3.5bn aircraft carrier HMS Queen Elizabeth is running Windows XP in her flying control room, according to reports.
Defence correspondents from The Times and The Guardian, when being given a tour of the carrier's aft island – the rear of the two towers protruding above the ship's main deck – spotted Windows XP apparently in the process of booting up on one of the screens in the flying control room, or Flyco.
"A computer screen inside a control room on HMS Queen Elizabeth was displaying Microsoft Windows XP – copyright 1985 to 2001 – when a group of journalists was given a tour of the £3 billion warship last week," reported Deborah Haynes of The Times, accurately describing the copyright information on the XP loading screen.
Similarly, the Guardian's Ewen MacAskill (who also worked on the Edward Snowden NSA revelations in 2013) noted: "During a tour of the carrier, screens were spotted using what appeared to be the outdated 2001 Windows XP operating system."
The Ministry of Defence assured El Reg two years ago that the carrier would not be running XP, saying, when our eagle-eyed readers spotted the iconic XP default background on a techie's laptop during a documentary about the ship: "The MoD can confirm that Windows XP will not be used by any onboard system when the ship becomes operational," adding that this applied to sister ship HMS Prince of Wales.
Today, however, one of the minions in the ministry's inventively named Main Building told us: "While we don't comment on the specific systems used by our ships and submarines, we have absolute confidence in the security we have in place to keep the Royal Navy's largest and most powerful ship safe and secure."
This would appear to be at odds with what we were told back in 2015.*